Dr. Marleen Awisha Hormiz receives her PhD from the College of Media at the University of Baghdad
By Admin En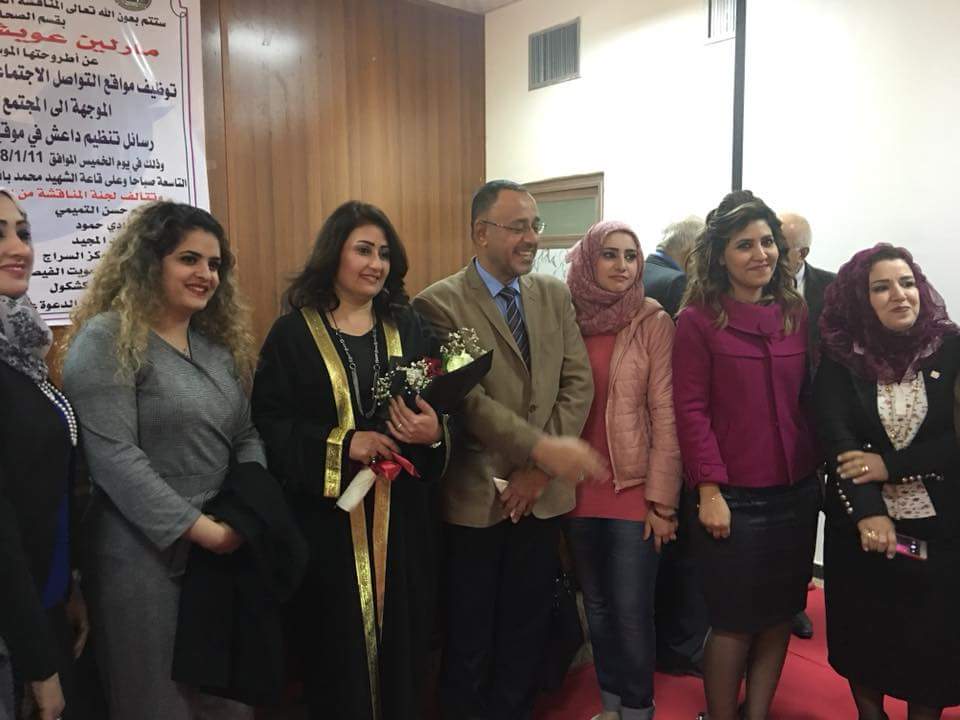 On Thursday, January 1st 2018, at the College of Media, University of Baghdad, and after hours of thesis dissertation, the researcher Marleen Awisha Hormiz was awarded a PhD with excellence on her research thesis titled, Employment of Social Networking Sites in the Psychological War Directed to the Iraqi Society (Daash messages in Twitter for example).
The researcher received a Master's Degree from the College of Media at the University of Baghdad in 2010 for her thesis titled, The Syriac Press in Iraq from 1972-2007 – Bahra Newspaper (Diaa, for example).
Professors, teachers, and government officials, were in attendance such as MP Yonadam Kanna: ADM Secretary General, Mr. Mazhar Mohammad Saleh: Adviser to the Iraqi Prime Minister for Economic Affairs, Hanan Awish: ADM Central Committee Member, and Rommel Mushi: Chairman of the Board of Trustees of the Iraqi Media Network. The audience also consisted of family members and friends.
It is worth noting that researcher Marleen Awisha has assumed the following tasks and responsibilities in different media and national institutions:
1 / Editor, news and programs reporter on Radio Ashur Arbil and Dohuk and the short wave SW.
2 / Editor, news and programs reporter in Ashur TV, in Arbil and Dohuk, administrating Ashur Satellite TV in Baghdad.
3 / Editing Manager of Bahra Newspaper in Syriac language.
4 / Writing articles in a number of national newspapers and magazines.
5 / Presenting programs in Al Iraq Hurra Channel from 2010 – current.
6 / Teaching at the College of Isra University – Baghdad from 2013 – current.
7 / Former member of the Central Committee of the Assyrian Democratic Movement.
We would like to congratulate Dr. Marleen Awisha for her PhD from College of Media and wish her more success and progress in her career.