The Assyrian Democratic Movements holds their Foundational Congress among 522 members in Nohadra-Duhok
By Admin En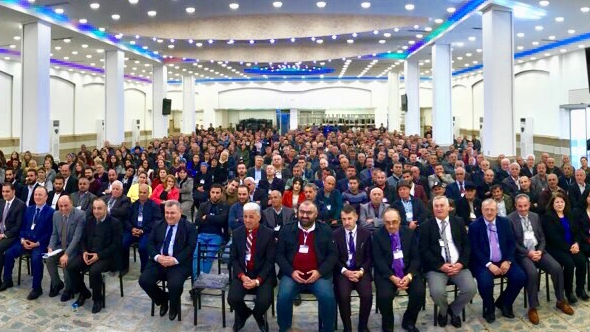 Under the slogan "Unity of Speech and Continuing the Struggle to Counter the Effects of Genocide in order to Strengthen Our National Presence", the Foundational Congress of the Assyrian Democratic Movement was held in Nohadra (Duhok) on Saturday December 16, 2017 for the purpose of Registration with the Independent High Electoral Commission.
The Conference was held in response to the Law of the Political Parties and in accordance with the instructions from the Political Parties and Organizations Department in the Independent High Electoral Commission, which called for holding the Conference to enforce the party's license to carry out its work in accordance with the laws and legislations.
522 members from various regions and Governorates attended the Conference, which was hosted at the Assyrian Cultural Center. The Conference began after welcoming the attendees and representatives of the Political Parties Department, followed by a moment of silence honoring our Nation and Movement's Martyrs, and Iraq's Martyrs. The proposed Presidency Committee was then approved to administrate the Conference's agenda.
MP Yonadam Kanna (Secretary General of the Assyrian Democratic Movement) opened with a speech in which he mentioned the founders since the emergence of ADM. In his speech, MP Kanna expressed his appreciation towards the participants for attending the Conference and enduring the struggles of long distance travel despite the difficult circumstances that the Kurdistan Region of Iraq is facing. He stated that we are completing the legal necessary requirements to enforce the party's license and looking forward to the next phase. MP Kanna added that our Movement is stronger and more effective and able to challenge others, to achieve the aspirations of our people and strengthen our existence to achieve our legitimate rights.
The Conference Presidency Committee preceded and presented the Conference's documents (the bylaws, political program, recommendations, and decisions). The participants approved the submitted documents after reading and going through each paragraph. At the end, the Conference approved the results of the 8th ADM Conference (March 2017) of the Elected Leadership (the Secretary General and the members of the Central Committee) to continue their tasks for the next phase.